You see "All x of the entitlements for serial xxx-xxx-xxxxxx-xxxx have already been claimed." when trying to activate a SQL Monitor license by entering the serial key. Most often occurs because the license purchaser/owner has invited the intended recipient of the license as a User, on the Redgate Licensing portal, rather than as an Owner or Administrator. Can also occur when trying to assign spare entitlements on an existing serial key-activated license to servers on a new base monitor.
In either case, you can only encounter this error message on SQL Monitor when doing serial key activation. If you're on v11.2.3 or later, you will avoid this issue if you switch from serial keys to licenses allocated on redgate.com.
This article covers the cause and resolutions of this error when:
Activating a new license or newly added entitlements
On allocating your new license, or new entitlements recently added to an existing license, on the Configuration > Licensing page in SQL Monitor, you might see an error connecting to the Redgate activation server ("The remote server returned an error: (400) Bad Request") and after the initial steps of a manual activation, the underlying error:
Your activation failed
All x of the entitlements for serial xxx-xxx-xxxxxx-xxxx have already been claimed.
Cause
Assuming the number of monitored servers is less than the number of entitlements on the license, then the most common cause of this error is that you, or someone else, has been invited as a User of the license: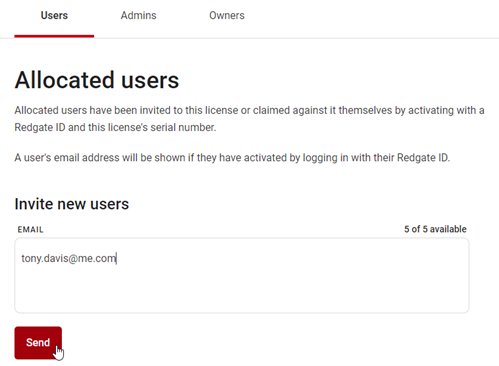 Resolution
Do not allocate a User to a SQL Monitor license. SQL Monitor is licensed by server, not user.
If you are trying to activate a perpetual license in SQL Monitor by adding the serial key, and someone has added a user to that license, this will take all the entitlements and you'll immediately see this error when you try to add the serial key in SQL Monitor. On SQL Monitor licenses from red-gate.com, assigning a user to a license consumes one entitlement (not all) and you can't encounter this error. See 'Missing' License Entitlements in SQL Monitor.
In either case, if a user has been allocated, remove it, as shown in Removing A User (Freeing Up A License/Entitlement).


Allocating an existing license to servers on new Base Monitor
In this case, the error is caused by changes made to SQL Monitor to support the release of a new licensing model. In all supported versions, a license is now per SQL Monitor installation (web server) rather than per base monitor. This means that if you use serial key-based activation, it's no longer possible to reuse the same serial key for a new base monitor; if you try you will see the "all entitlements claimed" error.
Resolutions
If you are on a version of SQL Monitor before v11.2.3, and cannot currently upgrade, please open a Support ticket, briefly explaining the above situation, and they will be able to resolve it for you by splitting the license.
If you can upgrade to v11.2.3 or later, you can resolve the problem by following these steps:
Upgrade your SQL installation, including all base monitors, to the latest version
Reallocate the same license by using your RedgateID, by clicking the "Allocate your license on redgate.com" button.
Under Additional licenses <installation name> is not using find

the currently activated

perpetual

license

. You'll see that currently the entitlements are use by other installations".
Click Start using this license
Return to SQL Monitor and Deactivate your serial key-based license
In Step 2, you must allocate the license on redgate.com, rather than just by re-adding the serial key in SQL Monitor, or it will not resolve the problem.