If you are getting this error message when opening:
The 'SqlSourceControlPackage' package did not load correctly.
The problem may have been caused by a configuration change or by the installation of another extension. You can get more information by examining the file:
'C:\Users\Username\AppData\Roaming\Microsoft\AppEnv\14.0\ActivityLog.xml'.
This is caused by an incompatibility in having SSMS's object explorer on the right side of the screen, on SSMS 2016 and 17.
The recommended solution is to update to SSMS 18 or newer.
If you can't update, please take the following steps:
1 - Close SSMS and uninstall SQL Source Control
2 - In SSMS, either move Object Explorer to the left (default position) or select "Reset Window Layout" on the Window menu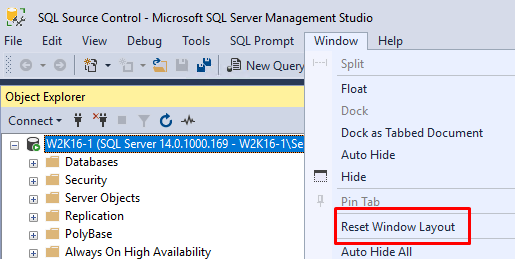 3 - Re-install SQL Source Control
4 - SSMS should now start correctly and you should have SQL Source Control installed